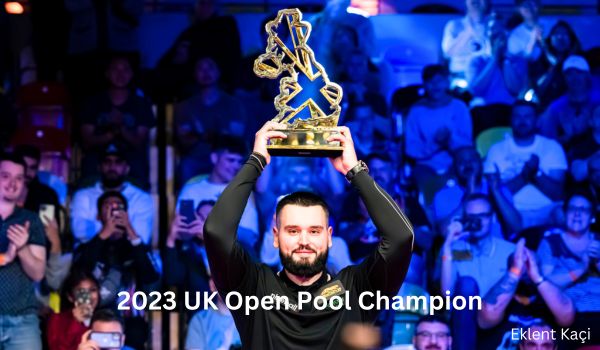 In a thrilling showdown at the Copper Box Arena in London, Eklent Kaçi emerged triumphant as the 2023 UK Open Pool Champion. Facing the defending champion, Joshua Filler, Kaçi displayed exceptional skill and composure, securing a resounding 13-4 victory. This nail-biting final was broadcasted live on esteemed sports networks worldwide, including Sky Sports in the UK, DAZN in the USA, Spain, and Brazil, Sport1 in Germany, and Matchroom.Live in Albania.
A Commanding Performance
The final match started with Filler winning the lag, but an unfortunate scratch from his break handed Kaçi the opportunity to take control of the table. Kaçi seized the moment, executing a flawless clearance and securing an early lead. Although Filler fought back valiantly in the third rack, Kaçi's impressive shot-making skills enabled him to regain control, resulting in an intense back-and-forth battle.
A Battle of Titans
Both players experienced some uncharacteristic errors early on, as they settled into the contest. Kaçi capitalized on the situation, winning the next two racks and extending his lead to 4-2. However, Filler demonstrated his resilience, leveling the score at 4-4 after a captivating break and run of his own. The match reached a boiling point as each rack became increasingly crucial in determining the eventual winner.
Kaçi's Triumph
Realizing the magnitude of the challenge posed by Filler, Kaçi displayed remarkable determination and skill. With an outstanding effort, he executed a flawless run-out in the ninth rack, capitalizing on Filler's dry break. This crucial moment propelled Kaçi forward, enabling him to secure a commanding 10-4 lead. The Albanian player continued his relentless pursuit of victory, leaving Filler with limited opportunities to turn the tide.
The Moment of Glory
At 12-4, Filler had a rare chance to mount a comeback. However, his jump shot on the three-ball missed its mark, allowing Kaçi to swoop in and move within two racks of claiming the championship. With his elder brother watching intently, Kaçi remained composed and focused, knowing that this was his moment to shine.
A Well-Deserved Victory
As the match progressed, it became evident that Kaçi had seized control and tamed the formidable Joshua Filler. With a commanding eight-rack lead and victory within his grasp, Kaçi remained cool and collected, demonstrating his expertise and experience. Filler's last turn at the table in the final rack fell short, leaving Kaçi with a safety shot that he capitalized on, ultimately sealing his memorable win and claiming the title of the 2023 UK Open Pool Champion.
Kaçi's Triumph: A Personal Milestone
Overwhelmed with joy, Kaçi expressed his elation at winning his first singles event in the Matchroom arena. His victory was a testament to his unwavering focus, calm demeanor, and strategic shot selection. Kaçi credited his success to playing the right shots without unnecessary risks, maintaining composure even under pressure. With this remarkable triumph, Kaçi solidified his position as a force to be reckoned with in Matchroom events, eager to continue his winning streak.
Filler's Acknowledgment
Despite his disappointment, Filler graciously acknowledged Kaçi's exceptional performance and acknowledged him as the deserving champion. Filler admitted that Kaçi's dominance kept him in his seat, serving as a front-row spectator to the Albanian's brilliance. He commended Kaçi's impressive display and conceded that he played an extraordinary match.
What's Next in the World of Pool?
The pool enthusiasts' excitement continues with upcoming events that promise more exhilarating action. The Mezz Bucharest Open is set to take place in Bucharest, Romania. This event is sure to captivate fans from June 16 to June 18, 2023.
Moreover, the highly anticipated Spanish Open Pool Championship awaits pool enthusiasts at the Pazo de Ferias y Congresos de Lugo in Spain. This signature Matchroom multi-table open event, scheduled from June 20 to June 25, promises to be a riveting affair. Additionally, the first-ever FSR Junior Open will take place on June 23-24, showcasing the budding talent in the world of pool. Secure your tickets starting from €15 and witness the excitement firsthand.
As the pool frenzy continues, mark your calendars for the 2023 World Cup of Pool in Spain from June 27 to July 2. With 31 countries competing for glory, this tournament will undoubtedly offer a spectacle of skill and determination as the host nation defends its title.